Author: International Partnership for Hydrogen and Fuel Cells in the Economy – Student Infographic Challenge 2020
Dear students,
On behalf of the UConn Center for Clean Energy Engineering (C2E2) and in preparation for the National Hydrogen and Fuel Cell Day (08/10), we invite you to submit your Infographic designs about hydrogen and fuel cells. C2E2 is encouraging you to participate in this challenge, and offering prizes to winning entities (including cash and travel support) and technical support in preparation of the designs. Please, submit them to both to media@iphe.net for IPHE competition and to jasna.jankovic@uconn.edu. Only the designs submitted to both C2E2 and IPHE are eligible for the C2E2 awards. Please see the attached flyer for more details. Deadline – Oct 8, 2020.  Learn more.

The Challenge: Are you a student looking to learn more about hydrogen and fuel cells? IPHE wants to hear from you! Don't miss out on this chance to apply your research and creative design skills to learn more about the world of hydrogen and win a cash prize.
As part of the IPHE Student Infographic Challenge, participants will research, interpret, and create a succinct, engaging infographic about a topic related to hydrogen and fuel cells. Through this challenge, students gain foundational knowledge about the field of hydrogen and fuel cells, develop research and design skills, and explore their creativity. This challenge provides a great opportunity to learn about this important field of energy research in a fun, engaging way. It also offers you the chance to expand your portfolio, connect with other students and professionals, and work alongside the next generation of hydrogen and fuel cell advocates, scientists, and engineers.
Who Can Enter: Secondary- (ages ~13 to 18) and university-level students from IPHE member countries are eligible to enter. Each pool of applicants will be judged separately. Students may work alone or in groups of 2-4.
Submission Details: Infographics are an important tool for delivering information in a quick, accessible, and visually appealing format for all audiences. The combination of text and visuals can serve a variety of purposes, from constructing an engaging narrative to expressing dense or technical information in a concise, straightforward way.
Students will research and design an infographic that is suitable for a public audience and is related to hydrogen and fuel cells in some way. Some possible topic areas include:
Basics of hydrogen and fuel cells
International status of hydrogen & fuel cells
Status of hydrogen & fuel cells within student's or team's home country
Hydrogen and fuel cell applications
Current field research
History of fuel cell technology development
Hydrogen safety
How to Submit: Participants will email their completed infographics to media@iphe.net and jasna.jankovic@uconn.edu with the subject line "IPHE Infographic Challenge Submission." Your infographic should be in English, submitted as a high-resolution PNG, PDF or JPEG file and labeled as follows: "Country name_institutionname_last name." Please note that submitting a version of the infographic in your native language is optional and will not impact judging or selection decisions.
Feel free to contact us with any questions.
Thank you and we look forward to your submissions!!!
Jasna Jankovic, Ph.D.
Assistant Professor
Materials Science and Engineering Department
University of Connecticut
O: (860) 486-6496
M: (860) 617-8798
jasna.jankovic@uconn.edu
Author: UConn Researchers Receive Patent for Diabetes-Sensing Breathalyzer
UConn researcher and vice president for researcher, Radenka Maric, and a former graduate student Rishabh Jain were recently issued a patent for a breath sensor able to detect chemical compounds that are markers for various chronic diseases.
Human breath is primarily composed of nitrogen, carbon dioxide, oxygen, and water vapor. But there are traces of more than 200 other chemicals that are the product of the body's metabolism. Even minute deviations from normal concentrations of these chemicals are often biomarkers for the onset of disease. These compounds can indicate the presence of diabetes, liver diseases, breast cancer, schizophrenia, cystic fibrosis, and many other diseases.
Author: UConn and Technion Collaborate on the Development of Next Generation Fuel Cells
Radenka Maric, UConn's vice president for research, innovation and entrepreneurship, Dario Dekel from Technion's Chemical Engineering Department and S. Pamir Alpay, UConn's associate dean for research and industrial partnerships are working on advanced concepts that will provide novel solutions in catalysis and energy research.
UConn and Technion have had a relationship for two years under the UConn-Technion Energy Collaboration Initiative, which enables the exchange of faculty and students between the two schools for presentations and collaboration on research. The partnership was facilitated by UConn's Office of Global Affairs.
This initiative became the base for UConn and Technion to collaborate on several topics associated with the development of new materials and approaches to reduce precious metal content in anion-exchange membrane fuel cells (AEMFCs). These cells are remarkably efficient, but they are also expensive to manufacture right now.
Author: City Council And UConn Lend A Hand To West Haven Community House
WEST HAVEN, CT — Members of the West Haven City Council this week presented West Haven Community House (WHCH) Executive Director, Patricia Stevens, and Board of Directors President, William Heffernan III, "UConn Nation" hand sanitizers for the nonprofit organization's Community Connections program.
The city's donation was made possible by University of Connecticut doctoral students and Councilman Barry Lee Cohen, R-10, on behalf of the Connecticut Center for Applied Separations Technologies (CAST) and the UConn Department of Chemical Engineering. Joining Cohen for the presentation was fellow WHCH Board of Directors member, Councilwoman Elizabeth Johnston, D-3.
Author: UConn Research Team Developing Emergency Ventilator Prototype
Jeffrey McCutcheon, the Al Geib Professor of Environmental Engineering Research and Education at UConn, is usually busy this time of year studying subjects like membrane separations and filtration. But like many, the director of the Fraunhofer USA Center for Energy Innovation, located in the Innovation Partnership Building at UConn Tech Park, has seen the focus of his work change with the COVID-19 pandemic.
Now, McCutcheon is leading a team that is developing a prototype of an emergency ventilator that could be produced by Connecticut manufacturers to help ease the anticipated shortage of the devices as the novel coronavirus continues to spread across the state.
Author: Bridging the Gap Between Bio-oil and Jet Fuel
Liquid fuels derived from biomass (biofuels) have the potential to generate less greenhouse gas emissions than that derived from fossil fuels. Identifying effective methods of production and utilization of products can make biofuels even greenhouse gas neutral.  Learn more about Associate Professor Julia Valla's research in removing Sulphur from gasoline and diesel to make fuels cleaner for today and the future.
Author: UConn's Own Radenka Maric Selected as a 2019 NAI Fellow
Farmington, CT—Radenka Maric of UConn has been named a Fellow of the National Academy of Inventors (NAI), the organization announced on December 3, 2019.
The NAI Fellows Program highlights academic inventors who have demonstrated a spirit of innovation in creating or facilitating outstanding inventions that have made a tangible impact on quality of life, economic development and the welfare of society. Election to NAI Fellow is the highest professional distinction accorded solely to academic inventors. To date, NAI Fellows hold more than 41,500 issued U.S. patents, which have generated over 11,000 licensed technologies and companies, and created more than 36 million jobs. In addition, over $1.6 trillion in revenue has been generated based on NAI Fellow discoveries.
Author: Recent Ph.D. Graduate's Work Featured in Journal of Materials Science
Congratulations to recent MSE graduate Abhinav Poozhikunnath, Ph.D! Just five days after defending his dissertation, his work was selected by Journal of Materials Science for publication as the cover article for the print issue to appear in February 2020.
The journal cover shows the reactive spray deposition technology (RSDT) process Abhinav used to synthesize Pt-free electrocatalysts described in his research article titled "Characterization and evaluation of Fe–N–C electrocatalysts for oxygen reduction directly synthesized by reactive spray deposition technology." The article has already been published online.
Author: WiSFiRE – UConn's Women in STEM Frontiers – Jan 31 2020
Join us for a one-day conference featuring talks by female faculty in STEM at UConn.  Come hear about their exciting research and how they have built their scientific careers!
A list of sp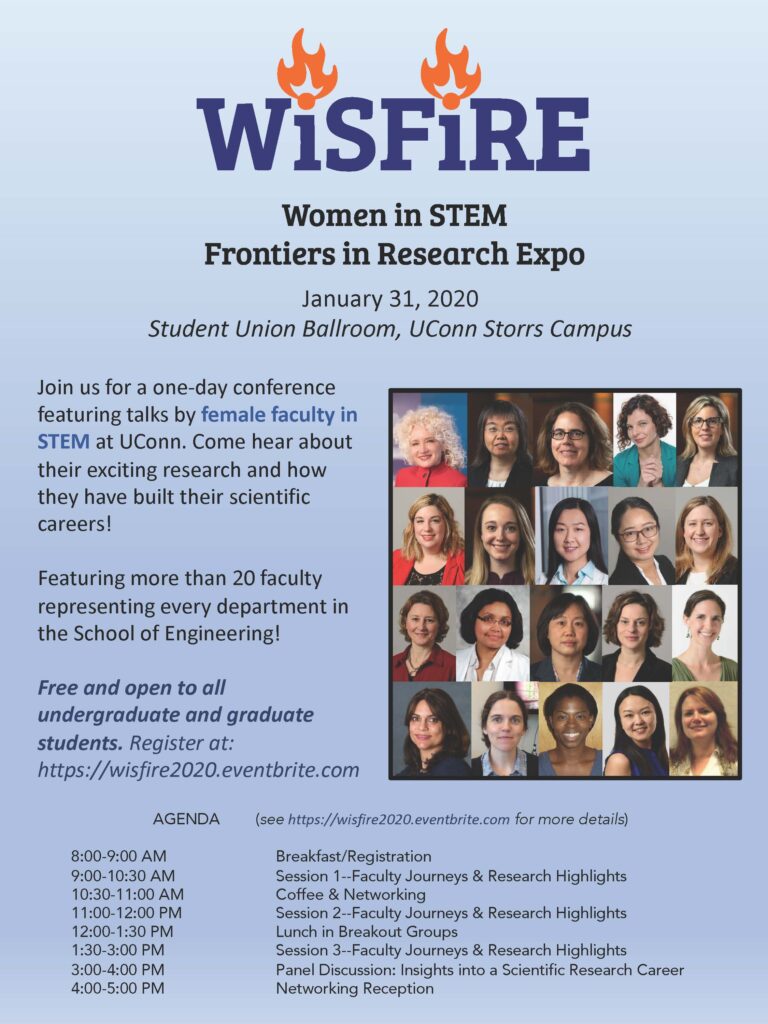 eakers, panelists, and talk titles can be found on the registration website.
Register today at wisfire2020.eventbrite.com
Author: Characterization and evaluation of Fe–N–Celectrocatalysts for oxygen reduction directlysynthesized by reactive spray deposition technology
A novel method for synthesizing iron–nitrogen–carbon (Fe–N–C) electrocatalysts using a modified flame spray pyrolysis technique called reactive spray deposition technology (RSDT) is described. The physicochemical properties of the RSDTsynthesized catalyst are quantified through a series of experiments including nitrogen adsorption, electron microscopy, thermogravimetry, spectroscopy and electrochemical analysis with the overall aim of exploring opportunities to use RSDT as a single-step, scalable alternative to multi-step, energy-intensive furnacebased methods for synthesizing PGM-free electrocatalysts for oxygen reduction. The Fe–N–C is synthesized by pyrolyzing a liquid solution precursor mixture under oxygen lean conditions without the use of additional support material or heat treatment steps. Properties of critical importance to the performance of the Fe–N–C catalyst are discussed in detail with respect to properties of similar catalysts synthesized by multi-step methods reported in the literature. Materials characterization shows evidence of ORR active Fe–Nx sites, a high fraction of pyridinic nitrogen and carbon-encapsulated iron-rich particles. The existence of undesired amorphous carbon mixed with the catalytically active material is also observed and may require process development in future to remove. Rotating disk electrode analysis in alkaline media of the RSDT-synthesized Fe–N–C confirmed catalytic activity toward oxygen reduction, which is shown to follow a two-step reaction mechanism. While the activity of the Fe–N–C catalyst is lower than that of commercial Pt/C, it shows superior stability with a decrease in half-wave potential of only 5 mV after 4000 cycles in alkaline media, encouraging further investigation of this alternative flame-based synthesis route.
Read more for a complete journal article