Faculty Spotlight: A Brighter Future for Clean Energy, Dr. Jankovic's Research Leads the Way
By Margot Wentzel and Olivia Ortegon
Professor Jasna Jankovic is one of the distinguished faculty members here at the Center for Clean Energy Engineering (C2E2). Her experience in the industry, as well as academia, make her work unique and pivotal. Dr. Jankovic started her career in a petroleum refinery and achieved her master's degree in Chemical Engineering with a project on heavy oil upgrading at the University of British Columbia (UBC).  When asked what inspired her change from the oil industry to clean energy, Dr. Jankovic states "the exposure to the oil industry inspired my change in interest to fuel cells and to focus on clean energy to contribute to society and give back to future generations."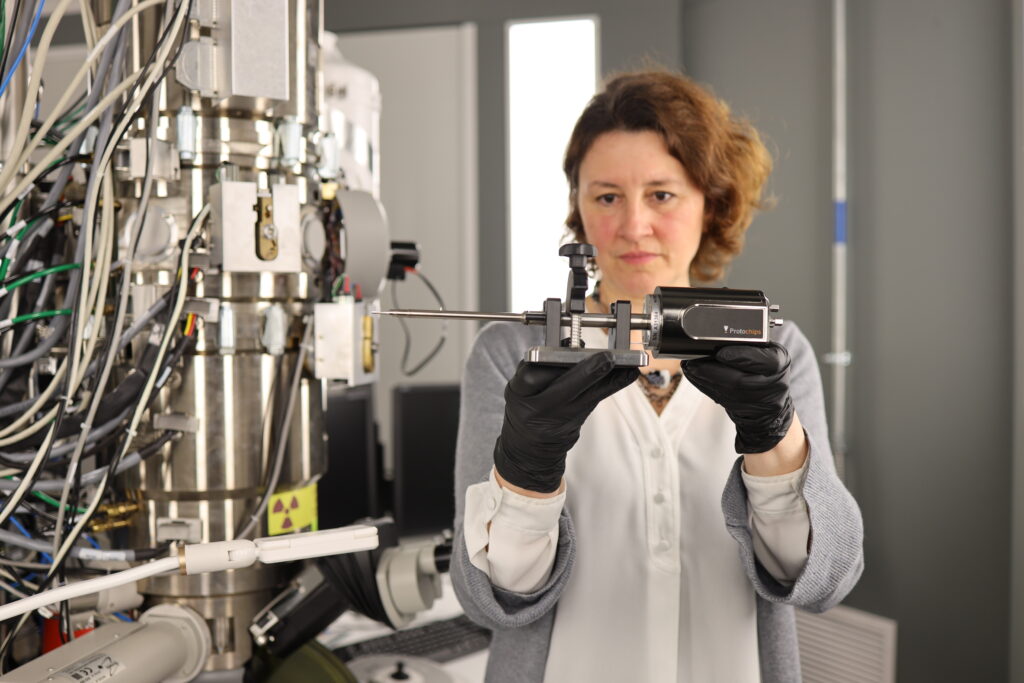 She completed her Ph.D. in fuel cell research in collaboration with the National Research Council (NRC) of Canada and the University of British Columbia. Specifically, the focus was proton conductive ceramics for intermediate temperature fuel cells. After graduation, she was awarded an Industrial R&D Fellowship by Natural Sciences and Engineering Research Council of Canada (NSERC) to complete her postdoctoral research in industry, at the Automotive Fuel Cell Cooperation, a joint venture between Ford (U.S.) and Daimler (Germany), where she was later employed as a senior research scientist. After the company closure, Dr. Jankovic decided to move to academia and joined UConn as an Assistant Professor.
Dr. Jankovic credits UConn for the cutting-edge technology and facilities that aid her research. She comments, "UConn enables the incredible research by providing testing facilities at the Center for Clean Energy Engineering (C2E2), analytical equipment in the Institute of Material Science (IMS), and high tech equipment at the Innovation Partnership Building (IPB). The powerful collaboration with industry and government labs at UConn is an integral part of research success. "
Her research group focuses on fuel cells and batteries and more definitively, the development of materials and characterization using microscopy as well as bio-inspired designs. Under her supervision, graduate students Amir, Sara, Andres and Aubrey are focusing their research on highly challenging projects.  These project include in-situ, identical-location  and 3D microscopy characterization of degradation mechanisms in clean energy systems, fabrication of nature-inspired fuel cells, and use of additive manufacturing for sustainable energy applications. She goes on to say "right now, the industry is lacking advanced characterization techniques and the knowledge gained from thorough research."  Dr. Jankovic's niche understanding of both these issues has led to many industry collaborations and successful projects.
She aims to continue developing characterization techniques and focus on biomimicry and the role it can play for engineering. One project that will soon be visible on the UConn campus is the STEAM tree powered by solar and using clean energy production. This project is a unique collaboration between 5 different UConn departments.  Dr. Jankovic and Assistant Professor Christopher Sancomb from Dept of Art & Art History are the Principal Investigators, and Assistant Professor in Research Cynthia Jones from Ecology & Evolutionary Biology, Associate Professor Sung Yeul Park from Electrical and Computer Engineering and Professor Stacy Maddern from Urban and Community Studies are the Key Collaborators. This project truly highlights how inter-disciplinary clean energy can be.
When asked what advice Dr. Jankovic would give to young students wishing to pursue engineering, she notes "if you are passionate about science and engineering, or anything else for that matter – just go for it. Nothing can stop you. Don't be shy to ask for help and do help others along the way." 
This drive and determination gave rise to Dr. Jankovic's involvement with Research Experience for Undergrads (REU) and Research Experience for Teachers (RET) which provides lab experience to undergraduate students and high school teachers to burgeon interest in Clean Energy.  She is also thinking of starting a tri-mentoring program with hopes that it will bring professors and industry partners together to mentor graduate students and undergraduate students with a goal to offer guidance in clean energy technologies to students at different levels of their education and training.  She explains "this work in clean energy is very important to society and the environmental longevity everyone should be striving for."
 Dr. Jankovic's work truly showcases the bright future for Clean Energy and she thanks her graduate and undergraduate students and the staff at C2E2, IMS and IPB who greatly help her research efforts.