Outreach Visitors
C2E2 faculty, students, and staff actively support an integrated array of outreach and diversity programs aimed at enhancing engineering awareness among school-age students and their teachers.  The Center hosts visiting groups of school children throughout the year, many on campus to explore energy technologies.  Some of these groups include: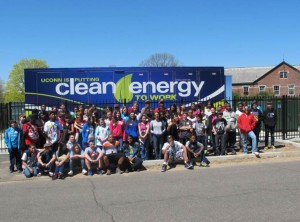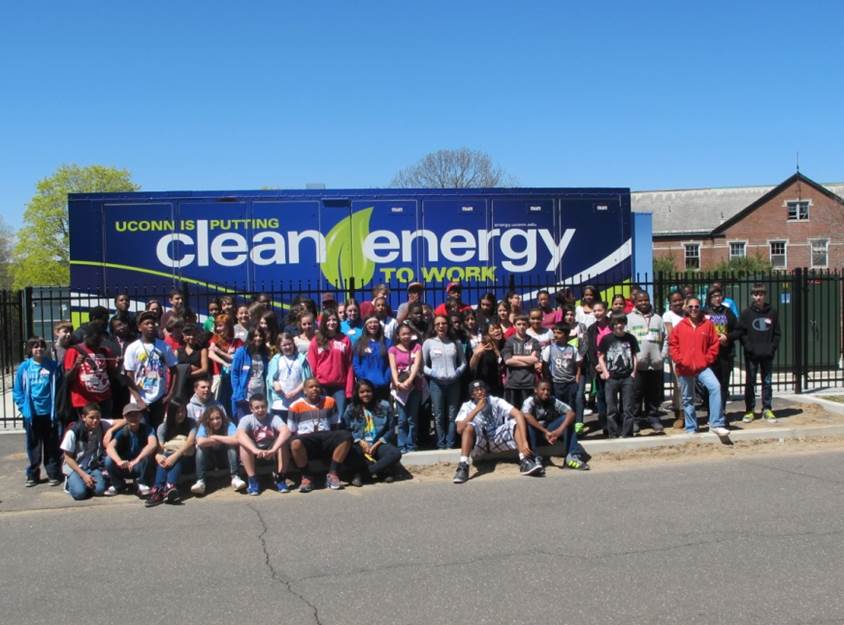 CT Kids Fueling the Future
CT Kids Fueling the Future program is designed to ring together middle school students from five diverse school districts to improve academic achievement. Kids come from Derby, Meriden, New Haven, Wallingford, and West Haven will come together voluntarily to investigate and explore the evolving and expanding technologies of renewable/sustainable energy sources. This long standing multidisciplinary summer and school year program will provide opportunities for students of different backgrounds to meet, develop friendships, and become collaborative learning partners as they become informed citizens and stakeholders in protecting and preserving their environment and community.
Glastonbury Jr. Lego League
Ms. Wendy Smith is coaching a group of first grade boys on a (Junior First Lego League) Jr. FLL pre-engineering team.  This group works with legos to create engineering ideas to solve problems.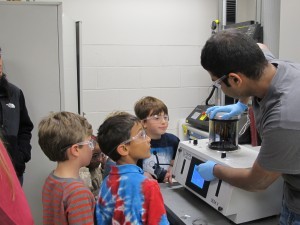 This year's theme is natural disasters, and Wendy is choosing to teach the boys about clean energy to slow or stop climate change, which could reduce some future natural disasters.
About The Program:  This program is focused on building an interest in science and engineering in children ages 6-9, Junior FIRST® LEGO® League (Jr.FLL®) is a hands-on program designed to capture young children's inherent curiosity and direct it toward discovering the possibilities of improving the world around them.  Just like FIRST® LEGO® League (FLL®), this program features a real-world challenge, to be solved by research, critical thinking and imagination. Guided by adult coaches and the Jr.FLL Core Values, students work with LEGO elements and moving parts to build ideas and concepts and present them for review.  To download the groups presentation click here or to learn more about this program visit USFIRST.org .
C2E2 hosts students from Summer CATALYST Program
On July 29th , 2014 C2E2 hosted (34) 7th – 10th graders from Windsor, Bloomfield, Canton, East Hartford, Hartford, Manchester, Enfield, Rocky Hill, New Britain, and Wethersfield who were participating in the summer energy & aerospace program with CCAT visited the Center for Clean Energy Engineering. PhD student, David Gamliel, provided a presentation on the importance and impact of developing clean energy. Some of the students participated in a demonstration smashing cryogenic pennies and cupcakes frozen in liquid nitrogen. Jason Ivaldi, a graduate student of Dr. Sung-Yeul Park, spoke about the relationship of a microgrid complex and how energy storage can power a community. The students concluded their visit with a tour of the labs led by Chris Martino and Steven Frick.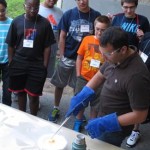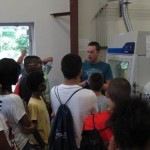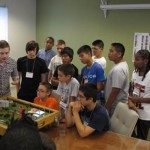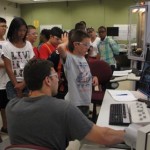 UConn Extension 4-H Program in Litchfield County visits C2E2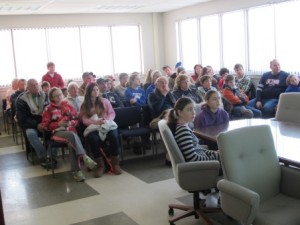 A group from the UConn Extension 4-H Program in Litchfield County visited the Center for Clean Energy Engineering.  The group consisted of 4-H club members, club leaders and family members ranging in age from 7 to 70.  This group had particular interest to see how UConn is researching the energy problems of today and tomorrow.  Fifty-six 4-H participants were onsite to learn about energy, sustainability issues with fossil fuels, and the basics of clean, renewable energy.  The Connecticut 4-H youth program seeks out opportunities for teaching young people that science can be fun through early STEM exposure by offering fun hands-on acti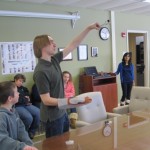 vities that foster skills and character development in science, citizenship and healthy living.
Presentations on clean and sustainable energy, lab demos on fuel cell technology and polymers, and a tour of the center were given by Sapna Gupta and Alan Harris, graduate students of Materials Science and Engineering Department (MSE) and officers of the newly-formed University of Connecticut chapter of the professional fraternity Keramos.  Keramos is dedicated to developing leaders in the fields of science and engineering, with a focus on the use of ceramics in modern life.  Next-generation ceramics are a fundamental component in tomorrow's energy systems, from fuel cells to gas-turbine engines.
Morgan School from Clinton, CT
Students from three AP Environmental Science classes from the Morgan School of Clinton, CT came to C2E2 for a talk and tour of the facilities. Students were hosted by PhD student David Gamliel, Raelene Philips and Sheila Ciccone. Students were excited to learn about fuel cells, biomass conversion and solar cells, and were amazed to see them in action. David spoke about engineering and his motivation for doing engineering at the undergraduate and graduate levels. He then lectured about conventional energy sources, global warning, and the need for alternative energy and about the cutting edge research that is happening at C2E2. David also passed around different biomass samples and talked about his own research field, biomass pyrolysis. Students were then given a tour of the lab by David, Sapna Gupta, and Travis Omasta.
PhD student Rishabh Jain explained the physics and applications of the novel Reactive Spray Deposition technique (RSDT). PhD student Alex Palmieri showed the students how to make a battery cell, and explained why glove boxes are important. Undergraduate student Kimmy Reindl showed the students her senior design project, and explained what it was like to do research as an undergrad.  Students were really interested to learn about the undergraduate experience, and see Kimmy's project.
Earth Day Spring Fling at UConn
C2E2 actively participates in UConn's Earth Day Spring Fling an annual celebration of sustainability co-sponsored by UConn's Office of Environmental Policy, the Department of Dining Services' Local Routes Program,  EcoHusky Student Group, and EcoHouse Learning Community. Every Earth Day since 2008, this festival has featured organic and local food, eco-friendly vendors, green companies and student groups that join together to produce the greatest day of environmental awareness all year!