Students from UConn's Master of Science in Advanced Manufacturing in Energy Systems (AMES) presented their research work to representatives from industry, community colleges, faculty, and students.  The symposium was a culmination of the AMES students' hard work and research during their time in the program.  This is an annual event to commemorate each student's accomplishments in their field of energy research. Subject matter covered fuel cell technologies, hydrogen separation, lithium-ion batteries, sulfur adsorption, spectroscopy of nuclear materials, and fabrication for electro-chemical devices.  This Master's program, sponsored by a traineeship grant by US Department of Energy's Advanced Manufacturing Office (DOE-AMO), is designed to train a new generation of advanced manufacturing engineers to fill workforce needs across industry, national laboratories, and universities.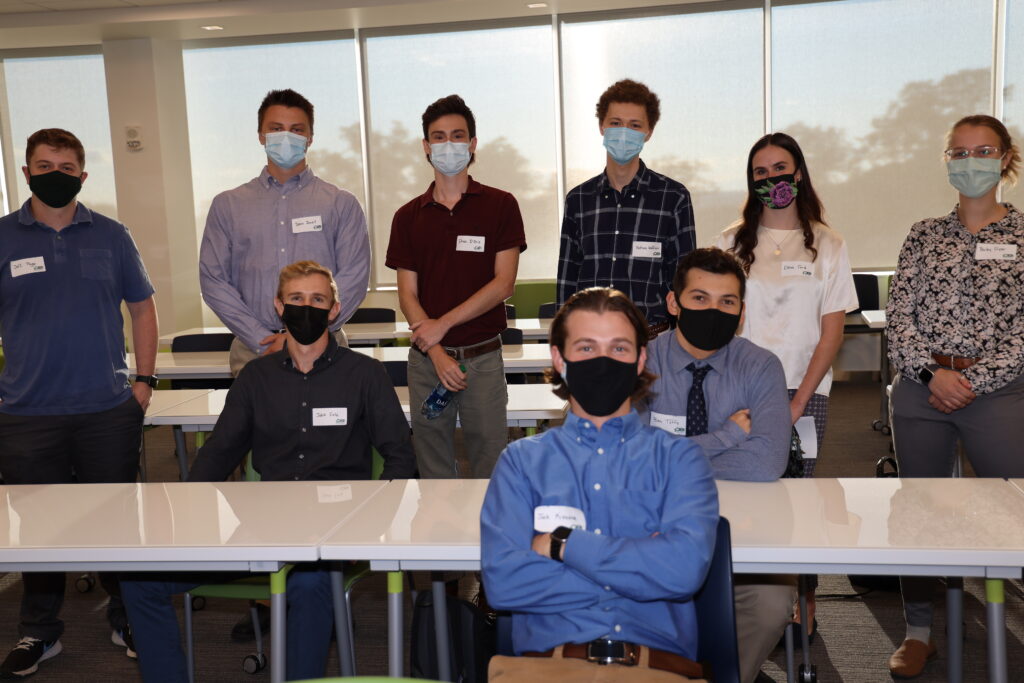 UConn's AMES Students (back row left to right: Jeff Page, Sean Small, Ethan D'Orio, Nathan Hoffman, Elena Ford, Bailey Fryer; middle row: Jakob Field, Ben Tuffy; front row: Jack Kissane)

The event was attended by guests from industry, community colleges, faculty, and current and recent graduates of the program.  UConn welcomed guests from NEL Hydrogen, Physical Sciences, Inc, Electric Boat, FM Global, Precision Combustion, Inc., Giner, Manchester Community College, Tunxis Community College, and the Connecticut Center for Advanced Technology, Inc.
Following the student's presentations, a panel consisting of industry leaders, Dr. Hui Xu (Giner, Inc), Chris Capuano (Nel Hydrogen), Mehrdäd Fäézi (Manchester Community College), Mathew Spinelli (Tunxis Community College), Dan Burkey (UConn School of Engineering), and Julia Valla (UConn School of Engineering) had an in-depth discussion on what the industry expects to see from their future employees and how education plays a big role in meeting those needs.
UConn AMES is an interdisciplinary Masters program aimed to train engineers in response to long-term workforce and technology needs for advanced energy systems. Currently in its fourth year, UConn has built an AMES curriculum that is supported by courses designed to build cross-cutting skills and multiple tracks that target challenges in advanced manufacturing for energy systems. AMES focuses on industry relevant research and training; AMES fellows conduct their thesis research on industrially relevant topics under the supervision of academic and industrial advisors.
Financial support through Advanced Manufacturing for Energy Systems (AMES) fellowship at the University of Connecticut is acknowledged. AMES is funded by the U.S. Department of Energy's Advanced Manufacturing Office traineeship program. This initiative aims to address workforce training needs in the early-stage technology area of advanced materials and process technologies in energy-related manufacturing.