Engineering & Science Building, a state-of-the-art facility whose carefully planned design and modern labs will help the University and its researchers drive new innovations in a range of scientific disciplines.  The building houses programs in engineering and life sciences, including the Institute for Systems Genomics.
It represents yet another milestone in the Next Generation Connecticut initiative, which funded the $95 million project cost as part of the state's larger plan to expand STEM (science, technology, engineering, and math) at UConn as a pathway to economic growth in the state.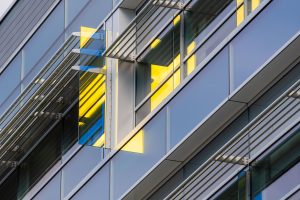 "This building is the culmination of significant investment by the state of Connecticut in the field of STEM, and in the future of engineering," said Kazem Kazerounian, dean of the UConn School of Engineering. "Nearly 40 percent of our state's economy is generated by engineering-related industries, and with our 70 percent increase in engineering enrollment, and significant investment in resources, UConn is providing research, talent, and technology that will pay dividends for decades to come."
The new five-story Engineering & Science building comprises 118,000 gross square feet of laboratories, research space, meeting and gathering spaces, offices, and other amenities meant to foster cross-campus and interdisciplinary collaborations between Storrs, UConn Health, and UConn's other campuses.
To learn more about new Engineering & Science building, please click here